Businesses worldwide use a wide range of digital applications to complete daily processes. From using cloud tools for file storage to communicating with team members online, these digital tools allow companies to work more efficiently. Many companies use online interfaces to store sensitive data, project details and more.
When new employees join organizations, they need to integrate seamlessly into company systems. Each user has different access privileges, depending on their job role and assigned tasks. Most organizations create individual user accounts for each employee. Their user account allows them to access the company interface and necessary tools for their job duties. But creating and monitoring each account can quickly become overwhelming for IT departments.
User life cycle management supports identity and access management throughout an employee's tenure. These solutions can streamline account and access processes, improving efficiency.
Read on for more information about identity life cycle management solutions.
What Is Life Cycle Management?
User life cycle management is the complete cycle of identity and access management for each user in a network. In other words, it encompasses every component of IAM, from initial onboarding to someone's last time signing onto the company network. The process manages identity and access privileges for users as they use company systems.
Companies use Joiner-Mover-Leaver (JML) processes to manage the life cycle of their employees. Joining consists of onboarding a new employee to the system, while moving refers to an employee changing roles. Lastly, leaving is the process of removing workers from databases and systems. A strong user life cycle management strategy allows you to focus equally on all three aspects of JML, rather than neglecting one.
Onboarding new employees is an exciting time, but it can become time-consuming. IT departments are responsible for many facets of onboarding, including:
Creating new accounts for employees.
Setting up system compatibility.
Managing access rights.
And when an employee departs a company, IT workers also have to revoke access rights and deactivate accounts, which can be laborious. Many businesses don't have offboarding techniques in place, further complicating the issue. If companies don't completely close out accounts, former employees can still access company interfaces and relevant data. This prolonged access causes potential security issues.
By creating or investing in a user life cycle management solution, you can automate onboarding and removal procedures. Administrators can create a single identity for each user and allow access based on predefined settings. Employees can get started with their job duties sooner, and IT staff becomes free to work on other high-priority tasks.
User life cycle management solutions usually consist of administrative tools and applications that streamline user management. From self-service portals to reporting capabilities, the features improve onboarding and user efficiency. Many user life cycle management software solutions can integrate with other company applications, creating a smooth user experience.
How Does User Life Cycle Management Work?
Life cycle management covers every component of a user's experience with a company system. A robust user life cycle management solution covers the typical processes of network access, including these four.
1. User Onboarding
Onboarding is the process of integrating a new employee into your company. From initial training to learning about your organization's values, strong onboarding prepares new hires for success.
Another aspect of onboarding is establishing new employees in the business network and other infrastructures. Usually, this involves creating a new user account in the company's directory. This account allows new staff members to access the interfaces necessary to complete their job requirements. However, you sometimes need an account for each company application. Managing every account's login credentials and access levels can quickly become challenging for IT departments.
In a Joiner-Mover-Leaver process, onboarding is a Joiner scenario. A Joiner is a recent user that has been granted access to company systems. Companies often want to complete the onboarding process quickly so that employees can begin work as soon as possible.
A user life cycle management solution ensures a smooth onboarding process. It assists IT departments with creating new employee accounts. The system can also automate access procedures, making it easier for employees to start.
For example, a solution might provide a web user portal that manages access requests from new employees. When a team member requests permission to view a company application or file, the system could automatically gauge whether they meet the requirements for access instead of contacting the IT department.
Another crucial component of user onboarding is strong authentication. A comprehensive user lifecycle management system can enforce strong authentication procedures from the very beginning of the user life cycle, which helps ensure adoption of your authentication strategy.
2. User Management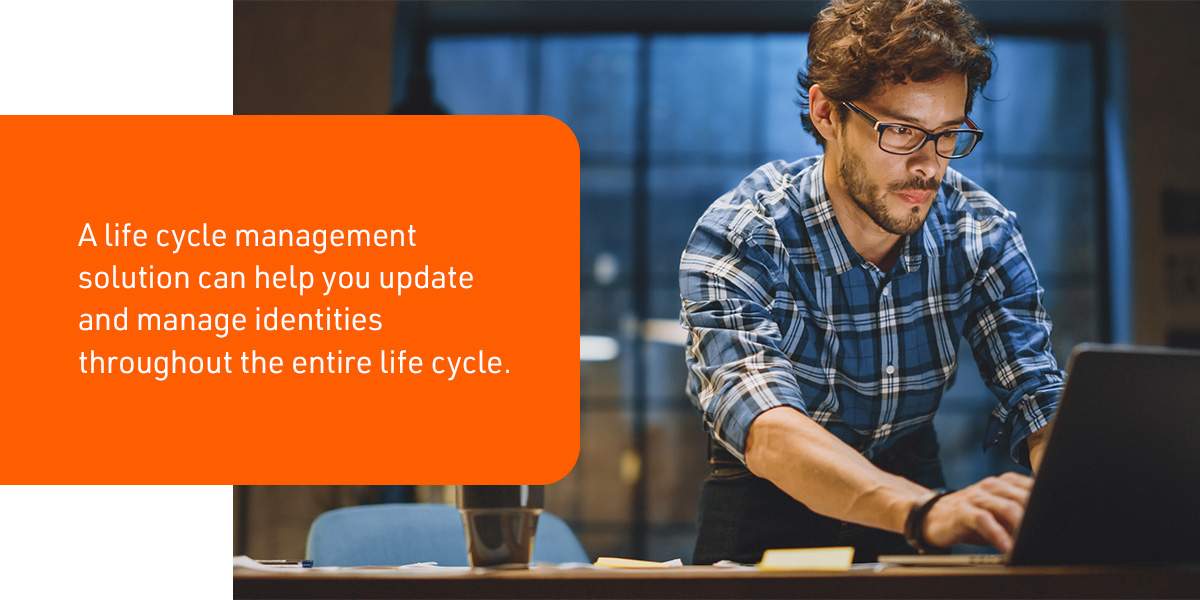 Next, user management refers to the ongoing management of user properties and permissions in company directories and other applications. Every employee record includes identifying information like:
The employee's full name.
Their username and password.
Their job title and responsibilities.
Any other roles they hold.
Their access privileges.
As employees progress further into their roles, many of these attributes change. IT workers might have to manually update employee statuses, which can become complicated. In the Joiner-Mover-Leaver method, role changing and user management are critical parts of a Moving scenario.
For instance, if an employee moves to a different department, the directory must change accordingly. Various roles require different access levels, and accurately assigning employees is crucial. If IT personnel become confused and provide the wrong access privilege, employees could gain access to confidential data.
A life cycle management solution can help you update and manage identities throughout the entire life cycle. Leading systems can automatically grant or revoke access after noticing a change in employee records. They can also assist with updating employee records, allowing the IT department to focus on higher-priority procedures.
A solution can limit an employee's access to a strictly defined period. This limitation ensures only authorized users can view sensitive data, and that data is only accessible for an appropriate time period. For instance, a life cycle management solution might grant access to performance reviews only at the start of a fiscal quarter.
3. Extensive Analytics
User life cycle management also provides constant monitoring. Companies should consistently examine their user directories to ensure all employees have the appropriate access levels and privileges. When only authorized employees can access confidential data, your information stays secure.
In addition, you can regularly invite managers, application owners and nominated auditors to review user access, and the life cycle management solution will enforce any changes automatically. At the same time, it maintains an audit history that details the evolution of a user's access throughout their entire tenure with your organization.
By pairing Bravura Identity with Bravura Privilege, you can grant and revoke access over a user's regular daily access privileges. When an employee or official has sensitive access, you can view security logs that track their activity on your networks. For instance, the log can provide information like:
A user's performed action.
Who performed the action.
The date and time of the action.
Whether they succeeded in the action.
With this data, you can easily identify suspicious activity on your networks.
4. User Offboarding
Lastly, life cycle management facilitates the process of an employee leaving the company, which is the final stage in the Joiner-Mover-Leaver structure. User offboarding is an integral process during the Leaver procedures. It involves disabling accounts and access privileges following their departure.
To keep your company data secure, it's best to immediately disable former accounts. You should also move the accounts out of existing groups, so they don't gain access due to prior permissions. These processes ensure only current employees can access your infrastructures and data.
Many companies don't have an offboarding process in place or don't fully complete the offboarding process. These practices can leave your company's information open to potential attacks or data breaches. Life cycle management can automate many offboarding processes, such as automatically removing disabled accounts from existing lists and groups.
Life cycle solutions can also revoke all existing access privileges and change existing user credentials. Actions like these strengthen security measures in your company systems.
The Benefits of Secure Life Cycle Management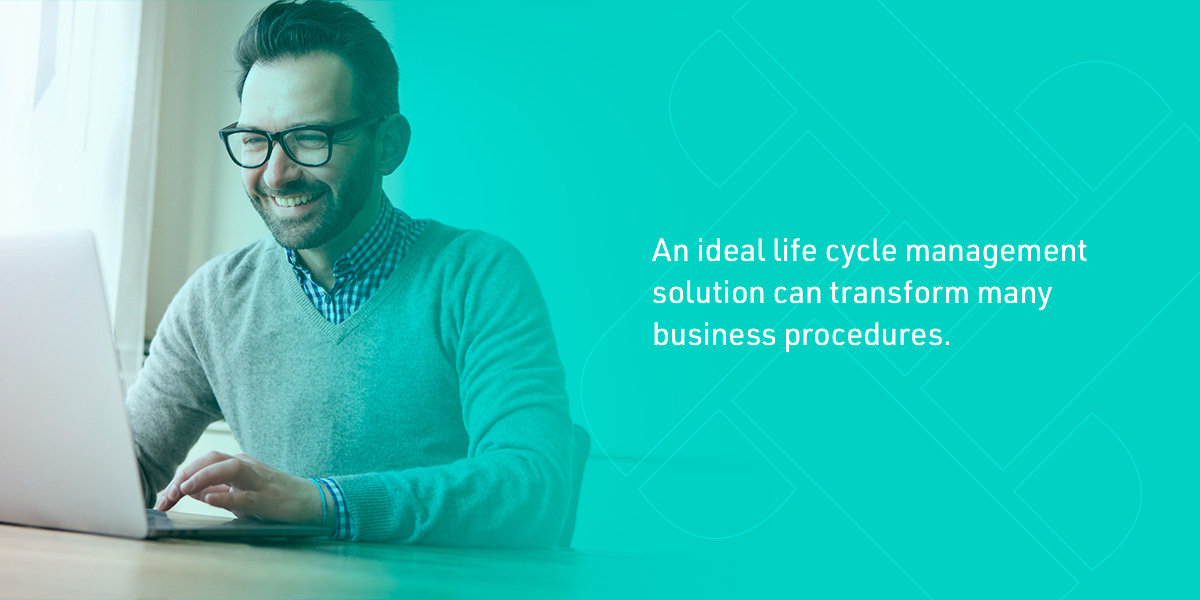 Implementing a secure user life cycle management solution can have many benefits for your company. From increased efficiency to lower IT costs, an ideal life cycle management solution can transform many business procedures. In turn, you can achieve business goals more quickly.
Consider these advantages of user life cycle management.
Enhanced Productivity
A robust user life cycle management system allows you to work more efficiently. Onboarding new employees can be a lengthy process, from establishing new accounts to granting access. And if you hire multiple employees at once, IT departments can quickly become overwhelmed. The delay makes it harder for new employees to begin working, decreasing employee efficiency on multiple levels.
A life cycle management solution can automate many onboarding processes, allowing new employees to access the necessary applications and tools immediately instead of waiting for permission. And, IT staff can focus on more pressing tasks instead of manually provisioning each new account and its required access.
Lower Costs
User life cycle systems reduce the effort and time required by IT departments. They won't have to use many company resources or time to onboard new employees. Reducing resources helps your organization save money while you integrate new employees. Life cycle solutions can also lower IT costs during daily procedures.
For example, a user could get locked out of their account due to a lost password. This issue could take multiple hours to resolve, and all that time results in lost productivity and revenue. But a user life cycle management solution can automate processes like password retrieval, allowing your employees to maintain efficiency rates.
Improved Security
A user life cycle management system simplifies granting, revoking and changing access privileges. In only a few clicks, you can change an employee's status and alter their access to sensitive information. This process makes it simple to secure resources and data from unauthorized parties. You can ensure each employee only has access to the data they need for their job. Only authorized users can view sensitive data, creating a robust security system. The system can also help you disable accounts once employees leave the organization, ensuring only active employees can access company interfaces.
Constant Monitoring
Lastly, user management systems can continuously monitor and audit your employee directories. They can observe employees' activity in the company interface, such as what access they request. The monitoring makes it easier to trace potential data breaches, adding another layer of security to your organization.
Many user life cycle solutions offer real-time dashboards, analytics and reports. These tools can combine recent trends in company activity and allow you to adjust access privileges accordingly. You can stay updated on user activity and ensure your system complies with regulations and other requirements.
Life Cycle Management Best Practices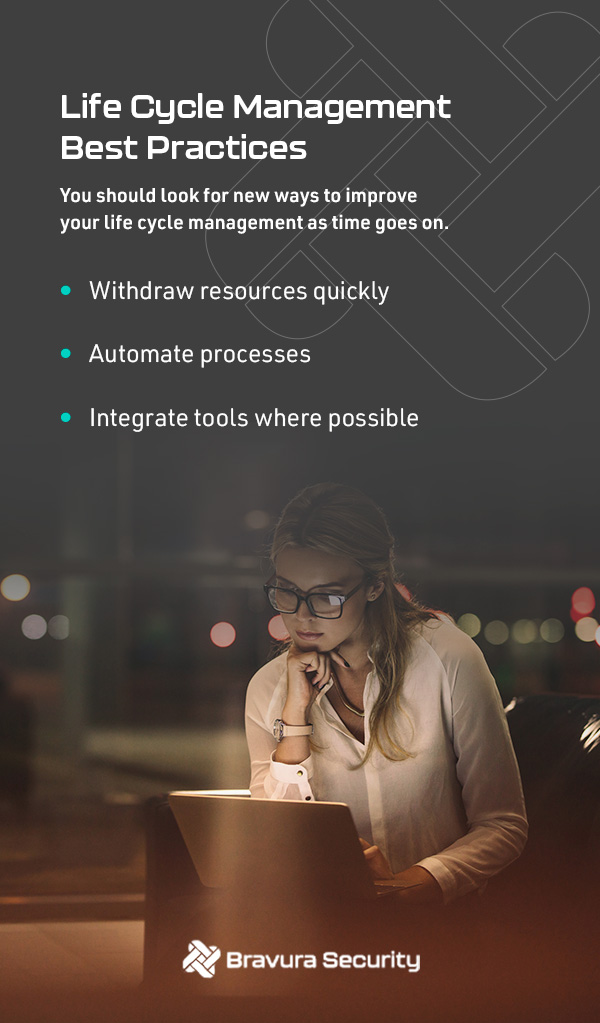 You should look for new ways to improve your life cycle management as time goes on. That way, you can continue improving efficiency and ensure you're maximizing the available benefits.
Here are a few user life cycle management best practices.
Withdraw resources quickly: It's essential to keep company resources available only to employed users and those with the appropriate access privileges. This procedure maintains company security and reduces the risk of unauthorized users stealing information. For instance, a life cycle management system can immediately disable a user's account and block their centralized access.
Automate processes: You should strive to automate processes wherever possible. The more applications and accounts you have, the more business functions you'll need. Manual activities like creating user accounts or regulating access can become time-consuming and reduce the time for high-priority tasks. And when you work manually, you also face the potential of human error. You can work with a service provider to find areas you can automate and improve your efficiency.
Integrate tools where possible: Organizations use a wide range of online applications, from file sharing to communication tools. Try to find opportunities for integration within your life cycle management system. Combining your tools in a shared interface can streamline many business processes and create an enhanced user experience. In turn, it becomes easier for new employees to familiarize themselves with your systems.
How Is Bravura Security Fabric Your Life Cycle Management Solution?
Bravura Security is the only identity management, privileged access and password management platform delivered as one powerful solution. Our Bravura Security Fabric solution can help you achieve user life cycle management goals. This comprehensive platform includes every layer of Bravura Security.
The Bravura Security Fabric manages user identities, security measures and login credentials for all users in your interface. Our software can revolutionize business procedures, reducing the cost of onboarding and potential security vulnerabilities.
Achieve Secure Life Cycle Management With the Bravura Security Fabric
Bravura Security develops and deploys identity solutions. We strive to deliver high-quality identity, password and access solutions that lower business costs, strengthen security measures and enhance the user experience. Our superb customer service and accessible design set us apart from competitors.
The Bravura Security Fabric is a premier solution for life cycle management. To get started with Bravura Security, request a demo today.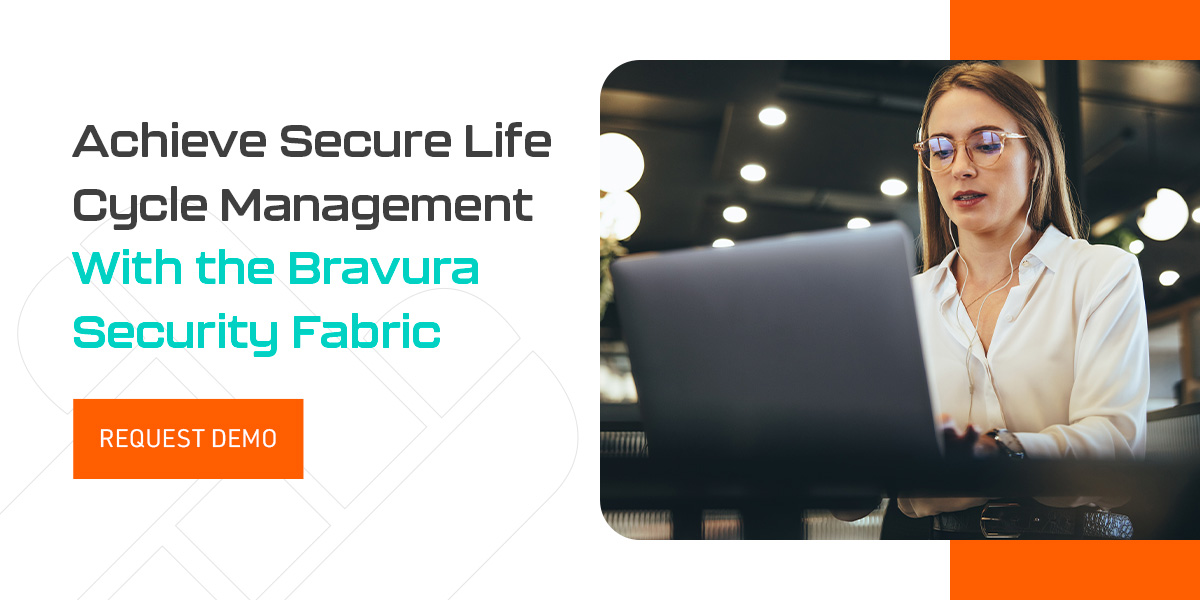 Related Articles
CIOs and IT leaders have two major priorities right now. The first is dealing with new cybersecurity challenges created by remote work. The second is how to make sure...
Read More
Most organizations continue to employ user accounts that indefinitely retain elevated privileges, despite increasing evidence that utilizing standing privileged accounts...
Read More