Identity-related cybersecurity breaches are on the rise. If you're in a position where you need to know how to communicate identity security to your boss, you've seen the effects of poor identity security firsthand. In 2020, 94% of organizations had suffered an identity-related breach, and 79% were within two years.
Knowing the importance of identity security and being able to communicate it are two different things. You should have a strategy outlining how to talk to your boss about identity security in a way that gets your message across.
In This Article
What Is Identity Security?
Even if you're well versed in the meaning and application of identity security, it's best to start thinking of it in terms your board will understand. As the name suggests, identity security is an all-encompassing solution that protects human and technological identities within your organization from identity-driven cybersecurity breaches.
Cybercriminals attacking identities present a security challenge for many businesses. As the digital landscape continues to grow and change, so too does the way a person must leverage their digital identity, or multiple identities, to gain various levels of access to applications that may or may not be entirely under the control of their organization's security teams. Identity security and access control best practices can help remove the threat of identity-based breaches, especially when combined with other robust cybersecurity options.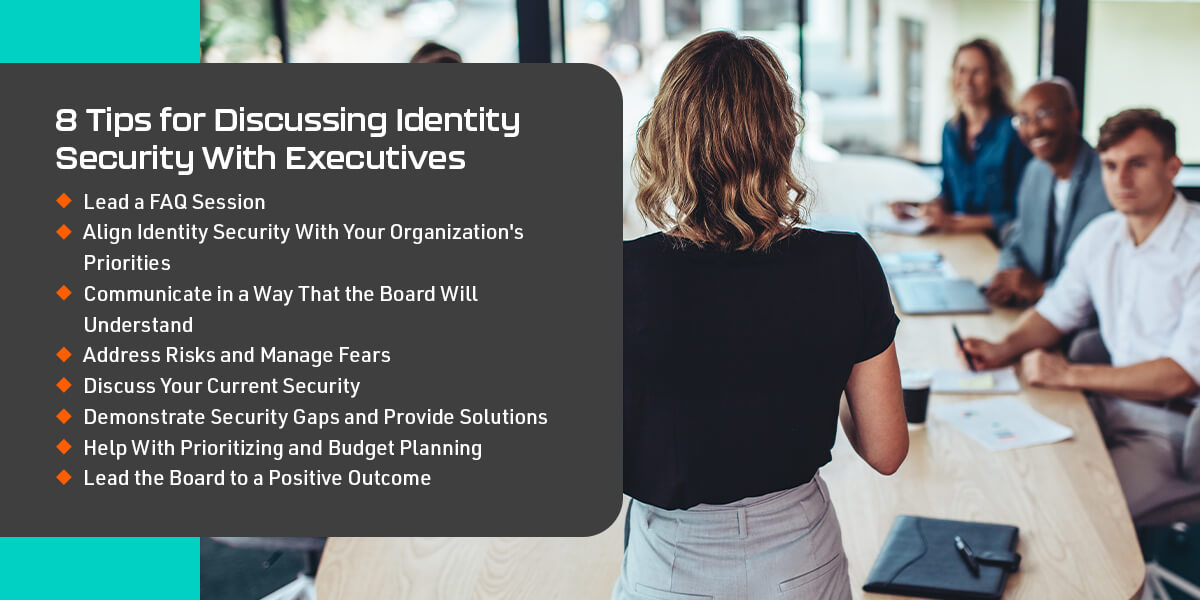 8 Tips for Discussing Identity Security With Executives
While the importance of identity security is non-negotiable to IT professionals in the trenches, knowing how to talk to your company board about it may be more challenging. While you come from a paradigm where cybersecurity is critical, your boss or the board has other vital roles, like allocating your budget and prioritizing resources to grow the business.
With proper planning, your identity security conversations will be more fruitful. Keep the following tips in mind for how to talk to your company board about identity security:
1. Lead a FAQ Session
Creating a FAQ setting for board leaders allows you to confidently communicate your message and answer daily questions about challenges you may face and overcome. The trick is to make your message strong and easy to understand for business decision-makers who may not be so technically minded.
Put yourself in their shoes and come prepared to answer variations of the following questions:
How can we protect our organization from devastating cyber-attacks as we read about in the news?
Why is identity security a priority compared to our other security objectives?
What techniques are cybercriminals using to initiate identity-based attacks?
Which teams within our organization are the most at risk of this type of attack?
How will you increase the protection of our identities and privileged information?
How are other organizations addressing identity-related challenges and how do we measure our progress against theirs?
How will identity security augment our digital transformation initiatives?
What do you need from us to create a successful identity security program?
Is the solution aligned with our protection level agreements?
2. Align Identity Security With Your Organization's Priorities
Before you communicate with your board of directors, you must find an angle that helps you get your point across. Find a way to link your identity security initiatives with your organization's commercial objectives and strategic priorities. Take the initiative and help them make these things happen.
Approach the board with a 'how can I make it happen attitude,' and frame security investments as business investments, so you can meet them halfway and confidently communicate your concerns.
3. Communicate in a Way That the Board Will Understand
Board members often have one question — how secure are we? While it may be an impossible question to answer, you must find a way to answer it. Having open communication channels with your board about the latest risks and how to tackle them is the first step to building rapport.
There are several ways you can communicate with the board. You can create a standing agenda with them, outlining the main cybersecurity risks they face and how to combat them. This way, you focus on critical business assets while introducing methods of achieving success, such as identity security. You can also give them a breakdown of the threats your team has mitigated since your last meeting, slowly building up a reputation for delivering the good news.
Most importantly, try and convey the risks and solutions in a language your board can relate to — in legal or financial terms, for example.
4. Address Risks and Manage Fears
Corporate stakeholders often see news headlines about catastrophic data breaches. Of course, they want to avoid their company facing similar challenges. While breaches vary in severity, and the well-publicized ones are often rare, coming into a board meeting prepared to address these concerns is an excellent start.
Try and balance the rare but well-known risks, put them into perspective, allay the board's concerns and keep the board's focus on high risks like identity security. It sounds like a tall order, but if you can direct their focus to initiatives you can control, you'll garner their support and receive the resources you need.
5. Discuss Your Current Security
One way to get the board's attention is to discuss the security initiatives you're currently using. Within this framework, focus on business-related security goals and weaknesses in your current cybersecurity framework that might impede the business.
Be sure to draw attention to your team's daily positive steps to mitigate risks, contain threats and keep their data safe. Think about your current security efforts as a benchmark. Once the board understands where you are concerning their competitors, they're more likely to see why measures like identity security require attention.
6. Demonstrate Security Gaps and Provide Solutions
Showing people is often more effective than telling them. Wherever possible, show the board the gaps in your current security framework and what the results could be if there were a breach in these areas. Go on to show them how you patch up these weak points and why efforts like identity security are critical to maintaining your overall security fabric.
Outcomes are critical for corporate decision-makers, and when they have actionable evidence to back up their choices, they can see the logic behind your solutions firsthand.
7. Help With Prioritizing and Budget Planning
Your board of executives is responsible for prioritizing organizational initiatives and allocating a reasonable budget to meet the requirements of achieving them. Discuss the most impactful things right out of the gate and focus your conversation on achieving these immediate objectives.
You can't do everything with budgetary constraints to consider, so aim for the most accessible options first, and help the board fit them into a budgetary framework.
8. Lead the Board to a Positive Outcome
Many executives at the board level feel that security initiatives impede digital innovation, which could predispose them to say no before they fully understand what you're asking. Before you go in, decide how to communicate identity security to your boss and key stakeholders by laying down a roadmap for eventual success.
Consider discussing a Protection Level Agreement (PLA), where you discuss the quality of protection you aim to provide in contractual terms.
Ensure you demonstrate a clear understanding of their business objectives, then talk about why security measures — like identity security — must be in place to achieve them. This simple step can reframe the whole conversation to focus on when certain things need to happen, not if.
Key Identity Security Solutions
When outlining identity security problems, the key to getting board members to pay attention is to provide them with industry-specific challenges and solutions. Focus first on business risks and challenges that will resonate with board members before translating those into identity security concepts and solutions to drive your point home. For an innovative identity security solution aligned with industry best practices, look no further than Bravura Identity.
Bravura Security can help you take that critical first step to transform your identity security with real-time automation. As part of the comprehensive Bravura Security Fabric, Bravura Identity can proactively detect and address identity challenges while maintaining the overall security of your networks with the power of one solution.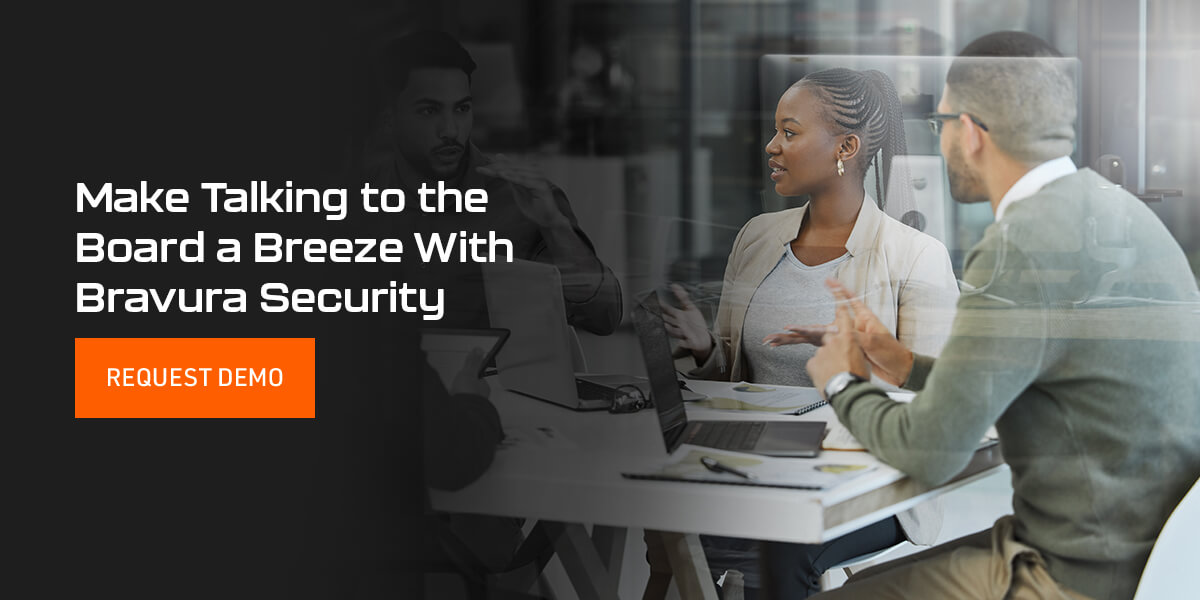 Make Talking to the Board a Breeze With Bravura Security
Communicating to the board of directors about identity security can be challenging, but with some planning and the ability to present a robust solution, you'll find the conversation easy. With decades of cybersecurity experience, Bravura Security understands the importance of identity security. It allows you to address your daily challenges with Bravura Security Fabric — the only identity and access management software suite of its kind on the market.
Bravura Identity is an award-winning identity administration and access management solution with complete process automation to create a strong identity and access management strategy with the power of one solution. Request a demo today and show the board of directors the power of the Bravura Security experience.
Related Articles
Mitigating identity-related access risks are essential as organizations continue to face changing threats every day. The management of access and digital identities (and...
Read More