"Bravura Security was a true extension of our own team. Quick communication and flexibility was
essential to success, and they delivered both time and time again."

Phillip Boyd

, Senior IT Design Engineer, BlueCross BlueShield NC
CHALLENGE BlueCross BlueShield of North Carolina (BlueCross NC) needed to reduce its risk with a frictionless end-user password manager and alleviate significant password support strain on its tier-one help desk.
SOLUTION BlueCross NC shifted to a SaaS password management solution that could handle healthcare compliance and legacy systems.
OUTCOME The shift to Bravura Pass in the cloud reduced password support calls by 80% and saw 78% of end users using the self-service and mobile password management solution.
FUTURE Focus is now to close the gap on the 22% of users not enrolled, increase onboarded systems, and add self-service password vaulting for users to store passwords and secrets in encrypted digital vaults they secure with a master password.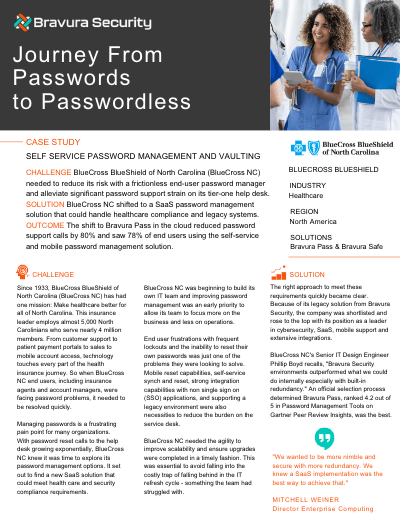 Start Your 90-Day Trial
Protect employee secrets and your organization. Combine z
ero-knowledge enterprise password vaulting for users
with the first true passwordless multi-factor authenticator to protect your employees and your organization.
Quickly secure shared secrets and decentralized passwords with a consumer-grade app built for enterprise needs with Bravura Safe
Make authentication as quick as unlocking a phone with a fingerprint or face recognition biometric with Bravura OneAuth, a

FIDO-certified authenticator

Unlike LastPass, Bravura Safe is built on open-source code with zero trust principals